The Storeroom Roadmap Pt. 2: Before your storeroom can be efficient, it must first be effective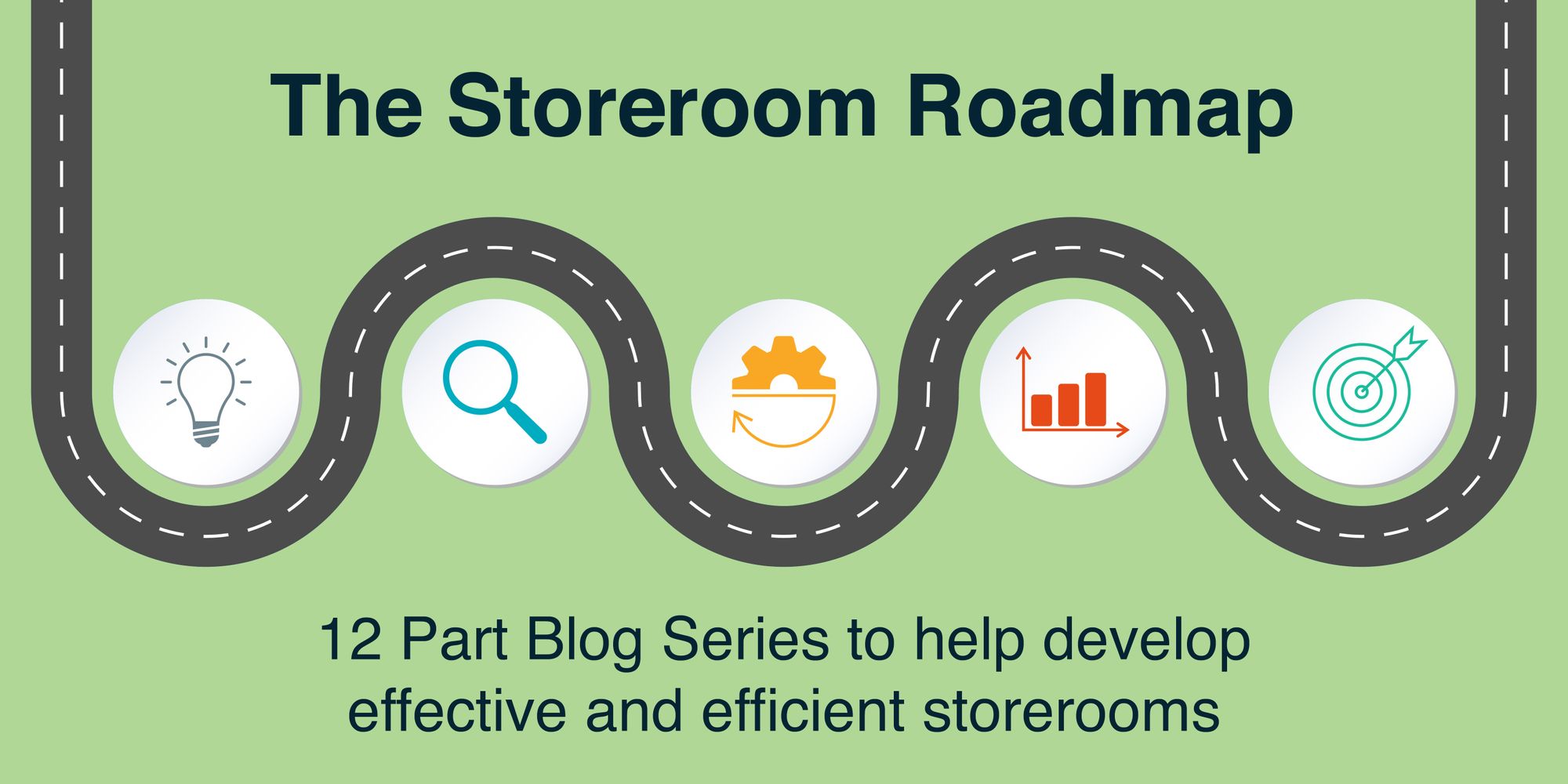 Welcome back!  This month, we are going to discuss the initial step of making your maintenance storeroom effective.  We are often contacted by clients who tend to share a common vision and goal, asking "Can you help us make our storeroom more efficient?"  "Of course we can, that's what we do!"  It's usually during this first contact with the client that we'll caution, "First, let's make sure your storeroom is effective."
As I mentioned in January's blog, I recommend that you begin the continuous improvement process of your maintenance inventory with a sense of where you are now (current state).  We have an extensive, thorough, and sometimes painful assessment, and also a tamer storeroom survey that can be used for such evaluations.  Those are the tools that we use, but in lieu of such formality, you should at least gain a sense of your current state by using any internal resource at your disposal.  Stores is a critical aspect of your reliability effort and you need to understand this element in order to move forward.
After an assessment, we can focus on the strategy of building an effective storeroom and then an efficient storeroom by following a concise and easy to navigate road map to reach a world class MRO storeroom.
Starting with this month's blog, we'll begin moving along this road map.  First we'll concentrate on the grid that establishes the base for the Foundation-Effective processes and practices.  I'll reprint images from the overall road map for you to follow.
With all Marshall Institute blogs, I encourage your feedback and comments as to whether or not you agree that these are the first steps to improving your maintenance inventory control and your MRO storeroom.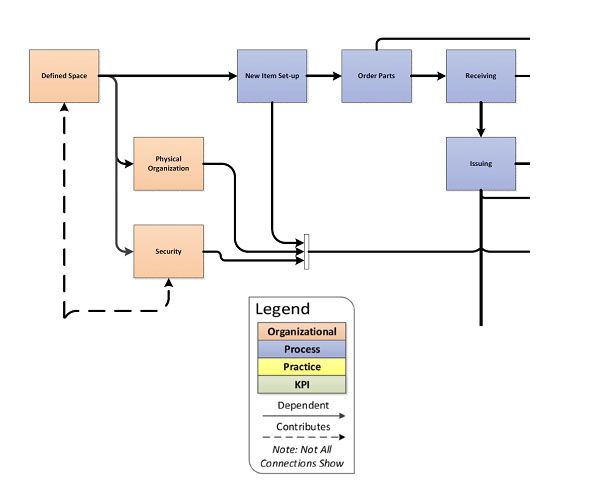 A word of caution is necessary here.  Throughout this series, I'm going to describe the steps necessary to take your storeroom from its current state to a higher level.  I'm going to describe scenarios, situations, and requirements that you may not agree with.  To be foretold is to be forewarned.  If you choose another path, or choose to give less attention than I suggest, you very well may end up in a different place than either of us intended.
An effective storeroom must have a defined space.  This is a location clearly defined by walls, fences or other permanent structures unambiguously denoting the area as part of the storeroom.  Satellite locations are fine, as long as their jurisdiction is clearly under the purview of the storeroom.  Any unauthorized scrounge or stash is not part of the storeroom and is to be used at the total discretion and to the total discredit of the owner.  The reliability and integrity of an O-Ring, for example, rolling around at the bottom of a mechanic's tool box cannot be guaranteed by the storeroom.
Are all storeroom locations at your facility clearly under the control of, and clearly identified as 'the storeroom'?
There has to be a physical organization; there has to be someone identified as being in charge.  I always recommend, at minimum, a storeroom supervisor and a storeroom clerk.  I encourage 24/7 coverage, but I understand the financial realities of operating a for-profit facility.  The main point to consider is that one can't expect full time results with part time help. The storeroom is a serious place, with serious fiscal responsibility, doing serious business.  It requires serious people.
In regards to security, there is a very simple proverb that governs this tenet of creating an effective storeroom.  If we consider that an effective storeroom is one that has what we need when we need it, we have to remember that, "A storeroom's inventory accuracy will never (and I mean NEVER) be greater than its ability to protect what it already stocks."  Securing the storeroom and its million dollar inventory is paramount to having solid inventory accuracy.  If you refuse to secure your storeroom, stop here and do not return to this blog series; you'll just be frustrated, or worse, disappointed.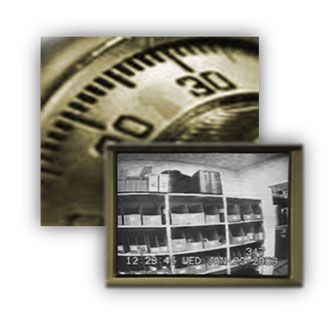 Securing the storeroom is not expensive, and you don't need to 'man' the window. Staffing is not necessarily synonymous with security.  We can work with whatever you have; we'll just need to give it some extra thought.  In response to this particular section, feel free to contact me directly and let me know what you have in terms of staffing and security and we'll see if we can come up with some options.
I want to impress upon everyone the importance of securing your stocked inventory.  Security is a fundamental element of ensuring that our inventory accuracy is high, that we are accounting for the inputs and outputs of our inventory system (turn rate) and  that our material is available when needed (inventory service level); these are the three big KPIs.
The processes that round out the Foundation-Effective portion of our world class road map are: New Item Set-Up, Ordering Parts, Receiving, and Issuing.
Our stocked inventory is a 'living' collection of materials that we have justified as being necessary to have on hand in support of the production effort and the good of the facility.  The maintenance organization has the primary responsibility of telling the storeroom what items to stock and in what quantity.  It is up to the storeroom to use their tools and formulas to maintain that stock.
In order for items to be installed as stocked items, the request and the part specifications need to be formally submitted in writing.  Our world class storeroom does not respond to a verbal, "We need to start stocking some of these."
A New Item Set-Up form will be submitted by the requestor and will include, as a minimum, the following information:
Nomenclature
Where used
Manufacturer part number
Supplier part number
Suggested supplier information
Unit of issue
Physical size
Suggested quantity to stock (Min/Max or otherwise)
Cost
Suggested reorder point
Suggested reorder quantity
For the nomenclature, I suggest you consider this format or something similar to it:

Noun, Attribute, Specifications, Further Detail
Example: Bushing: Dodge Taper-Locking, 2517, 2 3/16

The information ultimately gathered on the new item will be used to complete the Item Master data in the CMMS.  Clearly it makes sense for the requestor to provide as much of that information as possible.
All new items are subject to final approval by the Stores Stock Committee; but, we haven't discussed the SSC yet, and we'll get to that in a later blog.
Most industries utilize some sort of Materials Requirement Planning (MRP) for the automatic process of ordering parts.  Commonly, when the inventory is established for a certain item, the reorder point and the reorder quantity are determined.
When stock levels match or go below the reorder point, then a purchase requisition is automatically generated for the reorder quantity.  This is ideal.  I still believe in some human interaction, and recommend that the stores supervisor reviews the listing of computer generated orders to confirm what is being ordered.  This small blog space prohibits me from listing instances and reasons why we wouldn't want to execute an order that hits a reorder point.
There are other instances where a part is not stocked and needs to be ordered, or where an item is stocked but at 0/0 levels and has to be ordered when required.  Ordering items that are not stocked items must be done with attention to the specifications of the part to facilitate the receipt of the correct item.
In all cases, the processes around when and how we order parts needs to be spelled out in our process guide for storeroom operations.
Once parts are received from the various suppliers and vendors, it is critical to confirm that there are no obvious signs of damage, that the delivery is accompanied by a bill of lading or other shipping document, and that the contents of the package matches the information on the shipping documents.  Next, the shipment must be reconciled with the purchase order.  Proper reconciliation will ensure that what was ordered was what was received and paid for.  Reconciling the delivery with the order gives the purchasing department the clearance to honor the terms of the agreement and start the bill paying clock.
Receipts of stocked items should be accounted for promptly and restocked expeditiously.  Receipts of items for job kits should be relocated immediately as well and the notification should be given to the appropriate planner/scheduler.
I subscribe to a growing philosophy that no MRO spare parts are to be purchased through stores that aren't meant as restock items or for corrective maintenance or preventive maintenance job kits.  It is very common to have maintenance supervisors order items direct and then have them placed on a shelf in the storeroom until the supervisor comes and retrieves them.  Time and time again, I've seen these items sitting on shelves, in factories, around this country.  We need to stop doing that!  To guard against such abuse and error, never order MRO spare parts unless they are ordered against an active and valid work order.
And finally, issuing parts is the process that rounds out our initial efforts to develop the foundation of our storeroom, and to ensure that it is effective.
There is one guiding principle when issuing parts from the storeroom.  Stocked parts will only be issued against a valid work order. Under no circumstances will a part be issued out that is not against a work order.  Most will say, perhaps even some of my colleagues, that for emergency work, we should do the work first and the paperwork later.  There are no emergencies that cannot allow an extra 2 minutes to create a work order to track labor, material, processes, and other circumstances.  A high performing storeroom should and will have the ability to generate a work order in the time of greatest need.
Next month we'll continue to build our world class storeroom with more processes and practices.  Let me know how you are doing.  Also, let me know if you see things differently than I do and have a different approach.