Growing Your Efficient Storeroom: From Intermediate to Advanced Part II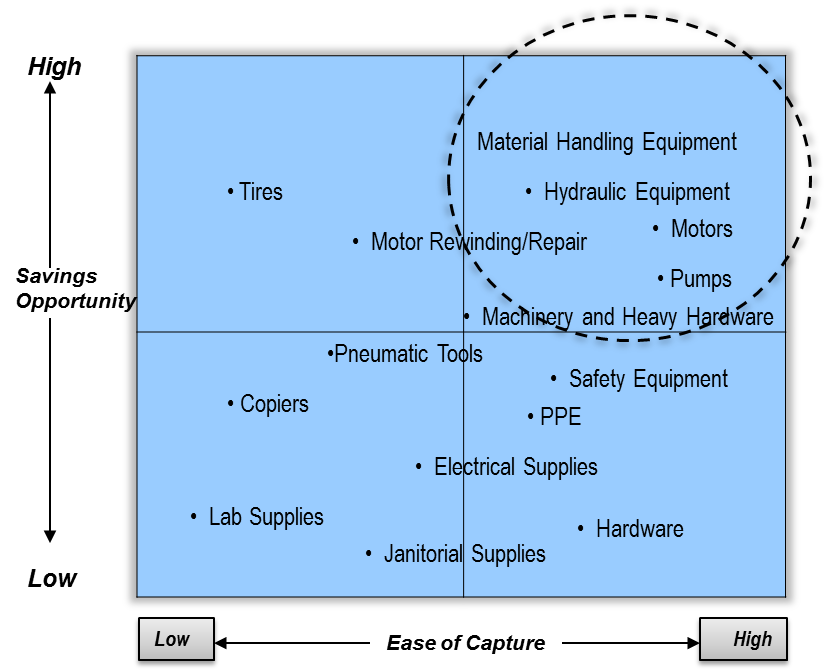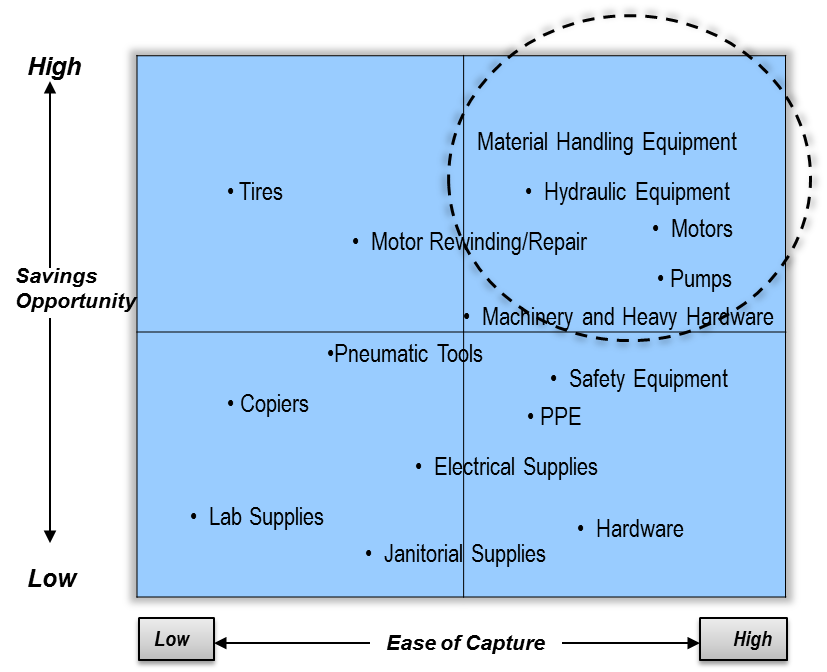 GROWING YOUR EFFICIENT STOREROOM
From Intermediate to Advanced
Here we are, at the completion of the Storeroom Roadmap. This month we'll finish discussing those practices (yellow blocks) that make our storeroom efficient at an advanced level. As a preview to next month's blog, our last in this year long series, I'll provide some final thoughts and suggestions to round out our study and understanding of the journey we've taken.
The practices that comprise the last element of our efforts really do seem to belong in the advanced stages of a very mature organization. It's in this very section of the map that we hone our fiscal sense and come to understand and provide tools to meet the budgetary constraints through the monthly budget and the measure of stores issues vs. budget.
As a very planned and programmed practice to exercise in our fiscal efforts, strategic sourcing and VMI/Consignment are necessary at this advanced level of execution.
And finally, the **technical library **will be discussed, in a way that hopefully conveys its importance well beyond a repository for information.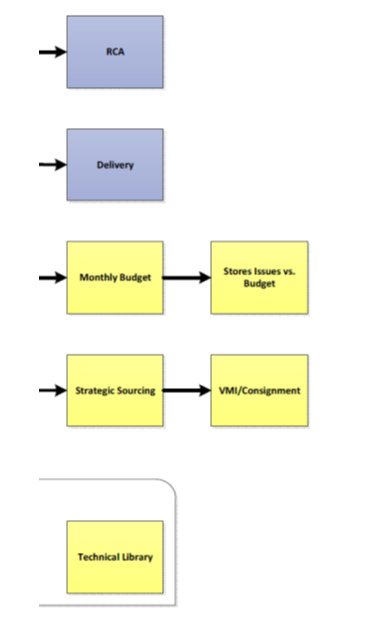 Figure 1: Advanced-Efficient
I've heard it said that almost 30% of a plant's expenses are equipment reliability related, and within that, 40% are materials related. If those numbers are even half accurate, we are responsible for a significant dollar value. The storeroom can play a major role in the effort to operate within established budgets, and to help steer financial decisions with exceptionally good information.
Consider that within the calculation for COGS (Cost of Goods Sold) lies the cost of maintenance, to include labor, materials, and parts. It's the responsibility of all managers and associates to work to maintain, and hopefully lower the COGS at their facility. The incentive is clear. A plant that routinely produces at the lowest COGS is a plant that is going to be around for a while, and going to be very busy.
The storeroom helps the maintenance department understand the materials and parts costs that are associated with that division's portion of COGS. A close partnership is required between maintenance and stores. This monthly budget element is crucial to understanding and controlling costs.
Within the monthly budget is a category that can be used to make a direct comparison between stores **issues vs. budget.
**
It makes sense, that as part of the annual budgeting process, estimates are made that include the value of stores withdrawals anticipated per year. With planners creating job plans that include expected parts usage for the coming weeks, it quickly becomes possible to control and manipulate the cost of withdrawals compared to the budget amount. Keeping these numbers close is the best way to bring a year in on budget.
The storeroom can provide tremendous service to help this effort. By keeping the maintenance department apprised of stock outs, and other inventory affecting issues, the storeroom can help cut down on the number of expedited parts needed; thus reducing the cost of materials and parts. This 'dance' requires committed partners: those that realize the win-win nature of working together to bring the effort in on budget.
There are additional tools at the disposal of the storeroom and purchasing, as well, to reduce the cost of materials and parts purchased for the good of the plant operations. Specifically, strategic sourcing is a commanding practice that is clearly established to generate savings and budgetary victories.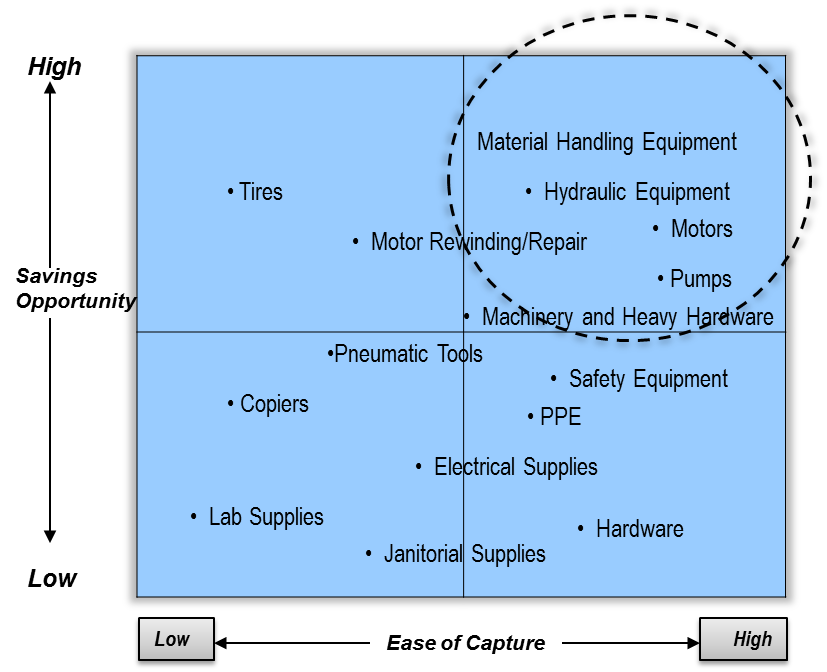 Figure 2: Sample Target Map for Strategic Sourcing
I read years ago, that Deming was an advocate of "putting all your eggs in one basket." The leverage provided when a supplier realizes that they have a significant portion of the available business, can actually work in your favor; although it has been feared for years that it would favor the other guy more.
Imagine a scenario where you've given all your rotating equipment business to one supplier. Instead of the feared response of increased prices and inferior service, you'd be in the driver's seat to demand cost concessions and favorable service, as well as free technical expertise.
The general concept of strategic sourcing is one where the parties seek to find relationships and agreements that allow both groups to go back to their camps and claim victory. The supplier can brag about sealing a big deal and the customer (that's us) can count the savings and monitor the improved service.
Ideally, when establishing a strategic sourcing practice, it's best to look for components and services that are the easiest to capture the savings for, and net the greatest savings.
Within the execution of strategic sourcing lie the dual practices of VMI/Consignment. Value Managed Inventory (VMI) and Consignment are similar, yet the differences are distinct and important.
With VMI, the customer owns the product; the supplier manages it. A common example would be the open stocked nuts/bolts that set in front of most storerooms. A company representative takes note of the inventory, services that stock, and submits an invoice. The advantage is that it provides another set of very interested eyes, and reduces the number of invoices and orders the storeroom and/or purchasing has to make. This reduces costs and ensures a high level of stock presence (Inventory Service Level).
Consignment is another practice altogether. With consignment, the supplier owns the stock, and the customer pays for it when they use it. The item may or may not be sitting on the shelf in the plant's storeroom. Sometimes the item is kept at the supplier's site.
Consignment is a great practice with many pitfalls. If the item on consignment is located in your plant, be sure to follow the supplier's guidelines for safe and proper storage. These guidelines should be considered the mandatory PM (or Lay-Up) requirements for that item. The old adage of "you break it, you own it" is very true with consignment items.
If the item is kept at the supplier's site, the responsibility is on the customer to verify that the item is actually there. This should be done, in person, from time to time: arriving unannounced is the best approach.
Finally we come to the technical library. This is a wonderful place to end our storeroom road map journey.
I'm going to paraphrase Jack Welch, "If GE knew everything GE knew, we would be unstoppable."
Imagine a library that contained the collective knowledge of everything you've ever done at your location. Filed neatly on shelves and in computer files would be the technical documents that represent what is currently working in your plant. Included among those documents would be Bills of Material, special notes, drawings (current to include red-lined), and anything that would be of help to understand and solve reliability related issues. These would be neatly arranged and easy to access. That place exists.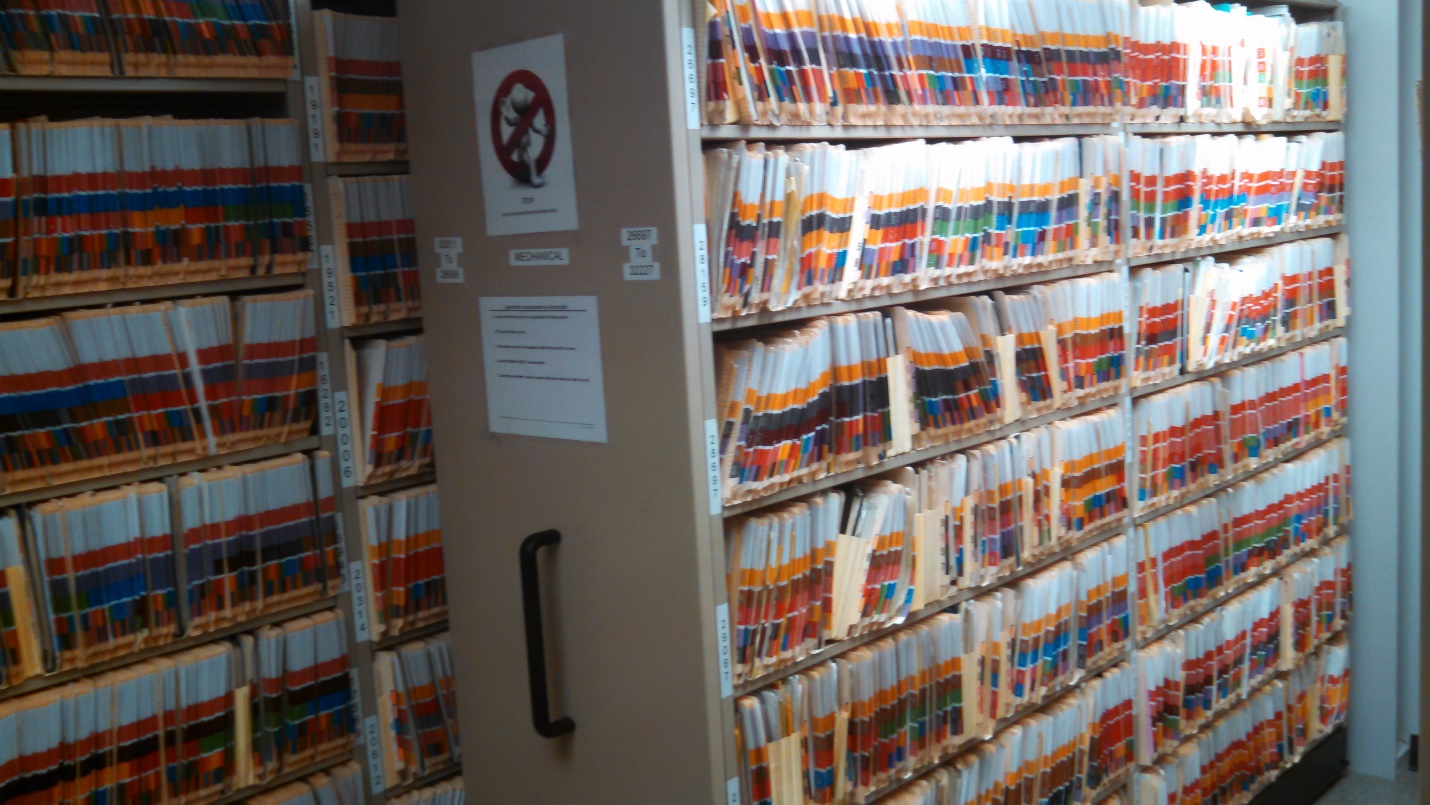 Picture 1: An exceptional technical library-looks like a doctor's office, doesn't it?
Some rules about a technical library:
It is usually found in the storeroom

It's the planner's job to keep it current, neat, and relevant

Never, ever let an original document out of the library; have a good copier handy
Folks, that's it. That is the entire Storeroom Roadmap. I use this tool every single week to help organizations elevate their MRO process. Take it and use it to move your operation forward.
Next month we'll round out the year's work of monthly blogs. I will share some closing thoughts, and some storeroom tie in points with other maintenance processes and practices.